Letter to Veterans and Wives, many times Veterans can cross generations to help each other.
I am hoping this letter graciously shared by Sharon Broton will do just that, help those that need healing with a chance to heal.
Sharon shares in an intimate way, what she saw and felt as her husband John "Jack" Broton reconnected with his fellow platoon members.  ( Jack is supervising in the photo below.)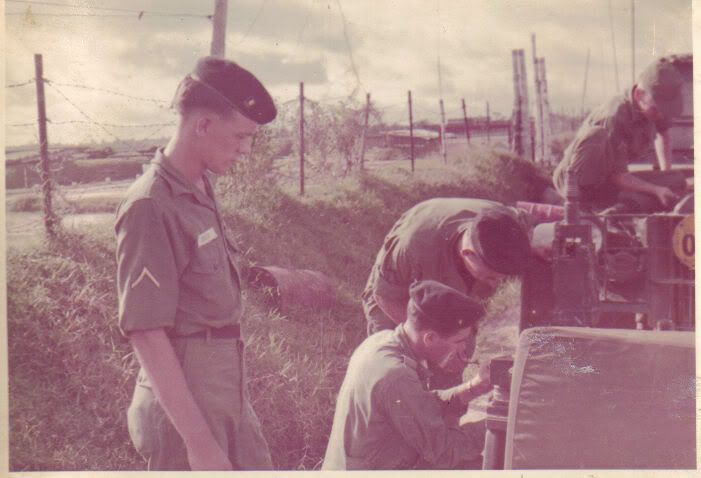 Jack's connection and release of years of feelings flooding out in a shared moment, with those that survived a firefight and with those that did not while at The Wall.
The connected emotions that reached out and touched even those that were passing by, as the men shared their personal and private moments.
It is hard to understand what a combat veteran actually endures because the feeling are always suppressed.  What his or her feelings are when they come home may never be shared for years.  It is difficult to express your feelings to others that cannot comprehend the loss of friends.  The feeling of abandonment for leaving others behind when your tour of duty has ended.  The emotional stress of thinking, just maybe you could have made a difference.
Finding another Veteran to share your feelings with sometimes makes a veteran feel weak.  Because Veteran's are soldiers they dot need therapists.  One thing I learned after over 40 years of not talking or sharing, your emotional health and your family will benefit, from you finding someone to share your feelings.  You can get strength from another Veteran an it is not weakness.  Instead it is healing.  It may take time but the healing will happen.  Veterans need to reach out to other Veterans and help them.
Local Veteran's of any military campaign can help you bridge your gap of silence.  Most Veteran groups have meetings and people that will offer you emotional support, when you are ready.  If you are a Veteran, spouse or family member of a Veteran take the first step make a call to your local Veteran Affairs office.  Often links will be provided on the Veteran websites.
We will be adding links to websites that can help you, no matter what state you live in.
Read Sharon's open letter to Veteran's their wives, girlfriends and family members.
A Memorial Day To Remember
By: Sharon Broton
As I sat at my desk with the sun shining on my back that bright Monday, May 15, 2006 never did I imagine the events of that afternoon would see a prayer that was whispered for 39 years come to pass. 
In December of 1967 my husband Jack, age 20 was wounded in action while serving with the 2/27th Wolfhounds, Combined Reconnaissance Intelligence Platoon (C.R.I.P.) of the 25th Infantry Division Vietnam.  He was flown from his base camp at Cu Chi to Japan then after a month on to Ft. Dix hospital for his recovery.  When he was strong enough he sent letters and packages to some of his buddies in the platoon.  When the first knock came on the door, one by one the packages were returned with the word "DECEASED" stamped on them.  He tried to find out any information he could but only by word of mouth did he hear that on February 11, 1968 they were all in an ambush and his platoon received heavy casualties, he still continued to search for someone, anyone to no avail.  Now he was not only physically wounded, but mentally and spiritually and survivors guilt found a place in his heart and spirit that would be with him for 39 years.  "If only I was their with them, maybe I could have done something and they would still be alive," he would say.  Nothing I could say or do could heal that part of him, simply nothing.
We were married in 1969 and the Vietnam War was always a part of our marriage.  We had our struggles but the Lord kept us together and we grew closer despite all the scars from the war.  Jack was busy with our two sons who he cherished and became active in our church choir, he always took the comedy parts in church productions and would be in charge for several years of the mentoring program for Confirmation.  It was Jack's way to do something to honor his fallen Heroes the "Wolfhounds".
On May 15, 2006 the telephone rang at work, it was Jack.  His voice was excited and yet he sounded nervous, he said "Sher you will never guess what" I'm at dad's house there was a message on his machine, a guy was looking for a John Broton who served in Vietnam and he left his name and telephone number.  "You have to call him back", I replied.  "It's probably a prank" he said.  "Jack, just call this person back you never know it could be someone who knew of your unit.  A long time passed and finally Jack called me back.  His voice was shaking with emotion as he said, " it was "Doc" from Nam.  "Sher, I asked him very specific questions that only someone in our unit would know the answers to",  "Sher, some of them are still alive!" all we could do was cry together.
When I arrived home he was so emotional, he was already receiving e-mails from some of the "Wolfhounds".  The emails and telephone calls were unbelievable – a miracle in the works.  Doc told Jack they were having a reunion at "The Wall" Memorial Day weekend only two weeks away to honor the "Mighty Ten" who were killed in action on February 11, 1968 and he invited us to meet with them.  Jack said he was not ready yet, it was too soon, and he was in total shock.  As he talked on the phone with Doc, I said, "ask him where he is staying", Jack then handed me a printout of the information.  As he talked to Doc on the telephone I took my cell phone and made reservations to join them.  I said Jack, "tell Doc we will arrive on Saturday and will be there until Tuesday, we are coming!"  Jack seemed excited but said, "Sher, I need more time", Jack I said, "God's timing is always right.  You have waited 39 years, the time is now, we need to go!"
We left home Saturday morning with friends and family praying for the reunion and Jack's first trip to The Wall.  When we arrived at our hotel late in the afternoon the front desk clerk said, "you two are pretty popular, and there is a group of people just waiting to see you!"  I told him to give us ten minutes then send them to our room, no sense in waiting after all it had been 39 years!
When the first know came on the door, we gave each other a hug and prayed, "Lord please bless this reunion".   Then I said, "Jack take a breath and remember God's timing is always right."  As I opened the door and they entered what a tremendous feeling overtook each of us, I stood back to let them identify themselves to Jack and one by one he was reunited with seven men from his unit.  There simply were no words for that moment, as I watched the healing begin to take place.  I felt so very honored to be among these wonderful heroes.  The remainder of the afternoon was sharing memories and recollections of each other.  At dinner that evening Jack shared with them his story of not being able to find anyone and the returned packages, letters and hearing they were all ambushed.  As I looked around the table I just had to share with them how 39 years we have prayed for them, their wives and children that the Lord would take care of their widows and families.  Every Memorial Day we took time to talk about them and to say a prayer, and how we have never been able to sing "God Bless America" without tears for them and now after 39 years the Lord said, "it is time to bring about a very special reunion" and he did.
Saturday evening, the group came to our room and began to share the story of how their comrades were killed in action that fateful day in February.  I sat back and could only pray and let tears roll down my face as they once again turned into 19 and 20 year olds at the time of the conflict.  What awesome respect and honor they gave to the "Mighty Ten" as they shared, sometimes through their tears the story.  The "Mighty Ten" are the Heroes!
On Sunday we would get ready to go to "The Wall".  Jack was packed with emotion
as this wonderful group of brothers took time and patience to tell him they would be right at his side.  They were on their way to honor "The Mighty Ten".  As we approached The Wall Jack stopped, I told him to take a little breath and that he could do this, the time is right. Doc and the men surrounded him and said, "We are right here with you."  As they walked forward to the panel on "The Wall" where their comrade's names were listed, I stood back to let them have this time together.  As the tears flowed and they wrapped their arms around each other, people simply stopped in their steps as they could feel something very special was taking place.  The reverence of that moment is one I will never forget.  The gentleness of his comrades and the way they gave their strength to Jack is one I can never repay.  People stopped, took pictures, one lady simply bowed her head in prayer as she watched this emotional moment, it was truly a Holy time, the Lord was present.  The Wall is a Holy place where you can almost hear the Heroes listed recognizing others as they walk past, where you feel so very close to even strangers listed, truly it is Holy Ground.
When we left The Wall we then went to pay our respects to one of "The Mighty Ten" who is buried in Arlington National Cemetery.  This Hero is one that first administered first aid to Jack, when he was wounded along with another that was in our group.  It was an honor once again that I was able to accompany this band of brothers, to be able to pray at this grave site and say, "Thank You, for assisting my Jack the day he was wounded and for serving this Great Country of ours."  I promise to continue to pray for your family, and I do to this day.
Monday, Memorial Day!  We were back at The Wall early waiting for the ceremony to begin.  Veterans were everywhere, I was so proud to say I am an American.  As we walked down the pathway a young man in uniform stopped Jack and said, "Sir, thank you for serving our Country, I will uphold the promise to protect our Country as you did sir, he then saluted Jack and Jack saluted him back, they shook hands and Jack stepped forward and gave him a hug and said, "Thank you for your service to this Great Nation."  One by one I watched the younger service personnel thank the older generations of Veterans, only if everyone could see this.  I thought Memorial Day will never be the same for us.
At the opening ceremony, the colors of our Country and branches of service were presented.  God Bless America was sung by hundreds of people gathered.  A prayer was offered and Amazing Grace was sung.  I didn't think there were many dry eyes in this sacred place.  Then they asked each Veteran or anyone now serving to please stand, what an awesome sight as they stood and the crowd applauded our Heroes.  A beautiful day in a Holy place.
As Jack went to The Wall for the last time, I stood back as the men of this unit stood watch as Jack gently placed his hand on the names of his brothers and bowed his head in prayer.  This band of brothers gently took their place at his side wrapping their arms around each other in a show of strength, courage, respect and love for the "Mighty Ten", and each other truly a moment I shall never forget.  After a few minutes Jack turned and put his arms around me and said, "Thanks Sher for making me come here this weekend, I not only found my brothers, paid respect to my fallen brothers but I finally have found peace after 39 years!"  As we stood there looking at The Wall his arms around me I said once again, "God's timing is always right."  God wanted us here and he wanted you healed of all the years of pain, I am so glad that you found peace!  We took one last look at The Wall threw a kiss to all the fallen Heroes and said, "Thank You Heroes, Rest in Peace."
Tuesday morning we said our " see you later and we will keep in touch" there are no good byes with this group of awesome Heroes as we all departed for our homes.
Little did we know, this was to be Jack's final Memorial Day and his last time with his comrades here on earth.  He passed away on February 20, 2007 from pancreatic cancer and went to be with his Lord and to re-join the "Mighty Ten".  Doc said it best, "The Mighty Ten and Jack are reforming the platoon."  That Memorial Day was one I shall never forget, the Lord's timing is always right.  I have peace-knowing Jack, my best friend, my Hero found peace here on earth at The Wall before he was called to go home, a Memorial Day to Remember.
End Note:
Last Memorial Day, 2007 my sons and daughter-in-law were able to meet the Heroes at The Wall and we are forever grateful for their love, kindness and support to us since Jack's passing.  They are our Heroes, thank you all.  "Wolfhounds Forever!"
"Sherry Broton and Family"