Ulysses Stewart "Mighty Ten" of the 25th Infantry Division Wolfhounds Recon C.R.I.P. unit Hau Nghia Provence, Vietnam. 
Ulysses Stewart was recorded in the official military records as another statistic during the Vietnam War.  To those that knew him and lived with him in the Bao Trai outpost Ulysses was much more.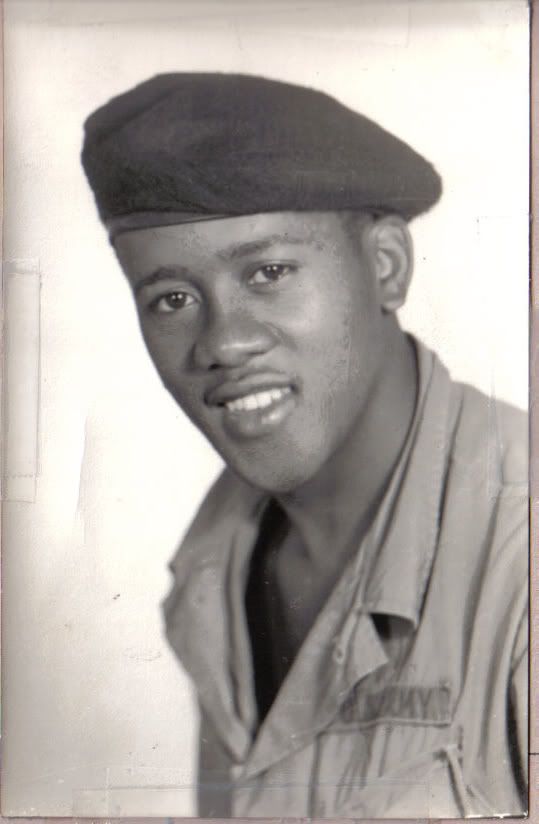 Ulysses joined the Army from his hometown of New Orleans, Louisiana.  His tour of duty after being trained as a infantryman began in October 24, 1967.  He was assigned to the 25th Infantry Division Wolfhounds, headquartered in Cu Chi.
Like most of us, Ulysses spent little time at the Wolfhounds base camp of Cu Chi.  He was quickly assigned to the newly formed C.R.I.P's (Combined Reconnaissance Intelligence Platoon) in Bao Trai, the Province capital of Hau Nghia Province.
Ulysses was in one of the enemy hot spots, located along the Cambodian border.  Tay Ninh was a staging area for the enemy and the C.R.I.P. Recon unit was asked to scout the area on a continual basis.
Initially before being transformed into what was later a full fledged Recon unit, the C.R.I.P's provided convoy guard support and a few missions with ARVN's.  (Army Republic Vietnam)
Many may not know Ulysses Stewart won a "Silver Star" for his heroic efforts.  Ulysses and his unit were caught in an ambush out gunned and out numbered.  Ulysses's and nine other men, we refer to them as the "Mighty Ten", lost their lives.  Others in the platoon were saved because of the combined efforts of each member of the unit.  The wounded and those participating in this fierce firefight showed courage beyond their years.
The "Mighty Ten", will never be forgotten for their sacrifice.  The Military records show, gun or small arms fire-ground casualty, hostile, Hau Nghia, South Vietnam.
To the members of the Recon unit the "Mighty Ten" gave everything so others might live. They will always be in our hearts and minds remembered forever.
Ulysses Stewart "Mighty Ten" a 25th Infantry Division Recon CRIP Wolfhound.  
Once a Wolfhound "Always" a Wolfhound!
Rest In Peace Brother Wolfhound.
Wolfhounds Forever!
Links to the rest of "The Mighty TEN"
1st Lt. Michael William Enbody